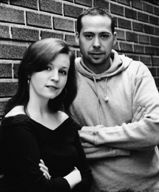 Laura Mullin and
Chris Tolley have been working as a writing and directing team for over ten years, creating cutting edge productions that explore modern urban life. With a strong focus on hip, diverse story lines, their shows have attracted international media attention and have been embraced by a wide range of audiences, from rural east coast Canada to inner-city New York City.
One of Mullin and Tolley's most notable productions was their 2002 new work, "Romeo/Juliet Remixed" (remounted in Toronto in 2003 and Philadelphia in 2004). This multi-media production was nominated for five Dora Awards (General Theatre category) including Outstanding Production, and won for Outstanding Choreography. The show received critical acclaim from the CBC, Globe and Mail, National Post, the Toronto Star and was recently featured in the prestigious New York theatre publication "Stage Directions".
Their new play, STATIC is an exploration of man's deepest fears told through theatre, light, sound, visual art, dance and video in a series of performance installations. STATIC, part of Harbourfront's Freshground Commissioning Program, will be performed throughout Haborfront Centre, and will run September / October 2006.
Currently Mullin and Tolley are creating the hour-long radio drama, The Tunnel Runners. This new work, commissioned by the CBC is scheduled for national broadcast on CBC Radio 1 and Radio 2, as well as international broadcast on Radio Canada International in the summer of 2006.
Mullin and Tolley are also the Artistic Directors of urbanNOISE, an annual international urban arts festival launched in 2006. urbanNOISE is a two pronged project including intensive training for youth by leading industry professionals, followed by a large scale urban arts festival which brings top urban artists to the stage. urbanNOISE was inspired by Tolley and Mullin's work on the PROPS Project. Over an eight-month period they worked directly with high-risk youth in one of our country's most dangerous hot spots of gang activity, Jamestown. Together with 50 youth, they created the ground breaking multi-disciplinary theatrical production, "Fillin' The Blank", about life in Canada's hip-hop heartland.